Jill N. Barnes, PhD
I have been an Assistant Professor in the Department of Kinesiology at the University of Wisconsin–Madison since 2015.  I became interested in the human body's ability to quickly adapt to exercise and environmental stress as an undergraduate at the University of Michigan, where I completed an honor's thesis under the direction of Jeffrey Horowitz.  This project motivated me to pursue a career in scientific research.  I obtained both my master's and doctoral degrees at the University of Texas at Austin under the mentorship of Hirofumi Tanaka and then moved to Mayo Clinic for a postdoctoral fellowship under the mentorship of Michael Joyner. My research has been supported by the NIH and continues to focus on the body's ability to adapt to exercise, stress, and how this changes with aging. When I am not in the laboratory, I enjoy traveling, riding my bike and almost any outdoor activity.
Research Staff
Anna Howery, MS Research Specialist
I have been a Research Specialist in Jill Barnes Lab since 2015. I attended the University of Wisconsin–Madison for my undergraduate education, majoring in Rehabilitation Psychology. After graduation, I attended Carroll University, where I completed my master's degree in Clinical Exercise Physiology. In the lab, I assist in maintaining compliance during each of our research studies, along with assisting in subject recruitment, data collection and data management. When not in the lab, I enjoy training for marathons and cheering on the Badgers and Packers.
Brandon G. Fico, PhD, Postdoctoral Fellow
I recently started as a Postdoctoral Fellow in Jill Barnes' Lab. I earned both my BS and MS from Florida Atlantic University where I studied how vascular function improves in individuals with obesity and inflammation following different exercise modalities. I then went to the University of Texas at Austin to complete my PhD in Exercise Physiology with Dr. Hirofumi Tanaka in the Cardiovascular Aging Research Laboratory. During my doctoral studies, I was able to investigate how vascular dysfunction is associated with advancing age and specifically how exercise and diet modifications can ameliorate changes in the cardiovascular system with aging. My dissertation focused on demonstrating the variety of research topics that can be assessed using noninvasive measures of vascular function. I am interested in investigating how changes in cerebrovascular health may increase the risk of developing Alzheimer's disease and related dementias. My current research focuses on the age-related variability in cerebrovascular regulation using a potential model of accelerated aging in humans. When I am not in the lab, I enjoy lifting weights, running, watching movies, and traveling.
Erin Moir, PhD, Postdoctoral Fellow
I recently started as a Postdoctoral Fellow in Dr. Barnes lab at the University of Wisconsin–Madison. I was born and raised in Canada and earned my MSc and PhD in Kinesiology from the University of Western Ontario. For my MSc, I studied cerebrovascular outcomes in adolescent sport-related concussion. My Doctorate research explored the discreet contribution of cerebrovascular compliance to the regulation of cerebral blood flow at rest and during physiological stress. I am interested in exploring age-related changes to cerebrovascular function and how these changes differ by sex and also contribute to disease such as Alzheimer's disease. Additionally, my Postdoctoral research will examine the role of hemoglobin-oxygen transport in regulating cerebral blood during physical exercise. When I am not in the lab, I enjoy running, cycling, and hiking.
Graduate Students
Andrew Pearson, Graduate Student
Born and raised in Michigan, I recently moved to Madison to begin a PhD in Exercise Physiology here at the University of Wisconsin –Madison. I graduated with a BS in Movement Science from the University of Michigan and an MS in Exercise Physiology from Eastern Michigan University. I am primarily interested in the combined effect of exercise, diet, and fasting on the neurovasculature, cardiovascular system, and overall health. While learning, teaching, and researching at UW–Madison, I hope to discover how autonomic and cardiovascular function can be improved through simple dietary and physical activity modifications. When I am not in the lab, I enjoy listening to music and exercising with a particular focus on running.
Adam Corkery, Graduate Student
I was born and raised in Iowa, and I graduated from the University of Iowa in 2016 with a BS in Human Physiology and a minor in Psychology. I then completed my MS in Kinesiology here at the University of Wisconsin–Madison, in which I examined the effects of exercise mode on cerebral blood flow regulation. Currently, I am a PhD student studying Exercise Physiology. My research interests include the effects of aging and habitual exercise on the cardiovascular system, with a particular focus on optimizing exercise prescription for cerebrovascular health. With my research, I hope to help identify the methods and amounts of physical activity that best benefit cardiovascular and brain health. When I am not in the lab, I enjoy cycling, running, traveling, and spending time with my dog, Macie.
Nicole Eisenmann, Graduate Student
I am originally from a small mountain town in Colorado. Currently, I am a first year PhD student in the department of Kinesiology pursuing a degree in Exercise Physiology. I completed my BS in Exercise Biology at the University of Colorado-Colorado Springs and my MS in Exercise Physiology here at the University of Wisconsin–Madison. For my master's thesis, I looked at the interactions of age and sex on sympathetic responsiveness to a hypercapnic challenge. My current research interests include how incorporating exercise into your daily life can slow the negative effects of aging and how this differs between men and women. When I am not in the lab, I enjoy skiing and snowboarding, biking, traveling and reading a new novel.
Sarean Gaynor-Metzinger, Graduate Student
Born and raised in North Carolina, I made the move to Madison, Wisconsin to pursue my PhD in Exercise Physiology at the University of Wisconsin–Madison. I previously obtained both my bachelor's and master's degrees in Exercise Science at Appalachian State University. During my master's thesis, I investigated the effects of resistance training on cardiovascular and autonomic function in young women. I hope to continue investigating the effects of resistance training in my PhD studies while also exploring topics related to cerebrovascular function, cerebral blood flow, and biomarkers for diseases associated with cognitive impairment. When I am not in the lab, I spend my time training and competing in powerlifting, climbing, and playing outside with my dog any chance I get.
Undergraduate Students
Alex Miller, Alex Norby, Ansel Fellman and Rehan Iftikhar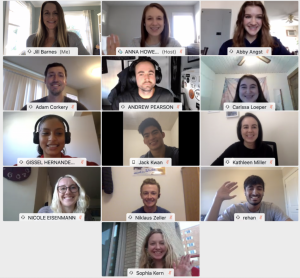 Laboratory Alumni
Graduate Alumni
Kathleen Miller, MS 2017, Ph.D. 2021
Current Position: Postdoctoral Research Scholar at National Institute of Aerospace
Undergraduate Alumni:
Abigail Angst, Alexandra Carl, Allison Tran, Alyson Zimmerman, Athena Golfinos, Carissa Loeper, Emily Hartwig, Emma Chapman, Gissel Hernandez, Hallie Mueller, Ido Haber, Jack Kwan, Karly Katchen, Katherine Senese, Lauren Walker, Mackenzie Greisch, Makayla Tuomi, Mark Saari, Michael Nuenninghoff, Mikaela Schwantz, Nicholas Winder, Niklaus Zeller, Purnima Stanek, Sophia Kern
Brava Magazine: Take Your Pulse: High Blood Pressure Just Got Lower
Author: Candice Wagener, February 1, 2018
http://bravamagazine.com/wp-content/uploads/2018/02/Brava_website_LR.pdf
Brava Magazine: The Science: Researching Alzheimer's Disease
Author: Lisa Bauer, November 1, 2017
http://bravamagazine.com/researching-alzheimers-disease/
Hometown News Group: Fitter Seniors May Have Healthier Brains
Author: Shari Gasper, July 6, 2017
http://www.hngnews.com/eedition/page_2a602985-8616-5fac-be05-8e5d252d40ad.html
Discover Magazine: With an Injection, Mice Nearly Double Their Endurance
Author: Nathaniel Scharping, May 2, 2017
http://blogs.discovermagazine.com/d-brief/2017/05/02/exercise-hitting-the-wall-endurance/#.WQi9-FKZPkF
Mayo Clinic Alumni Association: Alumna Jill Barnes, Ph.D. helps her graduate student get settled at Mayo – for cancer treatment and lab experience
Author: Melissa Abrams, April 14, 2017
https://alumniassociation.mayo.edu/jill-barnes-helps-grad-student-mayo/
Mayo Clinic Alumni Association: New Chapter
Author: Melissa Abrams, April 10, 2017
https://alumniassociation.mayo.edu/featured-alumni/featured-alumnijill-barnes/
NIH NHLBI Spotlight: Vascular Dementia: Exercise, Blood Flow and the Aging Brain
Author: Isabel Estrada, March 13, 2017.
https://www.nhlbi.nih.gov/news/spotlight/fact-sheet/vascular-dementia-exercise-blood-flow-and-aging-brain
Huffington Post: 7 Very Good Reasons to Workout That Don't Involve Weight Loss
Author: Allison Fox, Lindsay Holmes, November 18, 2016.
http://www.huffingtonpost.com/entry/exercising-not-for-weight-loss_us_582b3d22e4b060adb5706881
Wall Street Journal: Physical Fitness Leads to Mental Fitness.
Author: Jen Murphy, November 14, 2016.
https://www.wsj.com/articles/physical-fitness-mental-fitness-1479145666
Modalina Magazine: Move your body, change your mind
Author: Caroline Roscoe Barr, Fall 2016.
https://static1.squarespace.com/static/575c712f37013b38edb04e26/t/586567f7440243e45d739aee/1483040764112/MODALINA_ThePractitioner.pdf
Sports Illustrated: Get Healthy in 2016: How you can stay active without a formal workout plan.
Author: Michael Joyner, February 18, 2016.
https://www.si.com/edge/2016/02/18/getting-healthy-in-2016-how-to-be-more-active-outside-the-gym
American Society of Cell Biology Newsletter: Science as a jigsaw puzzle: a story of sex and blood pressure.
Author: Michael Joyner, November 2015.
http://www.ascb.org/newsletter/2015-november-newsletter/science-jigsaw-puzzle-story-sex-blood-pressure/
Mayo Clinic Alumni Association: Diligence and drive propel scientist to take risks and earn awards
Author: Melissa Abrams, May 2014
https://alumniassociation.mayo.edu/barnes_2014_kendall/
Medscape: Exercise Generally Safe, Beneficial for Patients with Lupus.
Author: Janis C. Kelly, November 13, 2013.
http://www.medscape.com/viewarticle/815119
AJP-Heart and Circulatory Podcasts: Age-related Changes in Central Blood Pressure.
Author: Kara Keehan, May 24, 2012.
http://ajpheart.podbean.com/e/age-related-changes-in-central-blood-pressures/
National Geographic News: Can Sugar Make You Stupid? High Concern in Wake of Rat Study. Author: Charles Q. Choi, May 23, 2012.
https://news.nationalgeographic.com/news/2012/05/120522-sugar-stupid-rats-high-fructose-corn-syrup-health-science/
Undergraduates play an important role in our research and gain valuable skills unobtainable through regular university courses alone. If you are interested in learning more about the Undergraduate Research Assistant requirements, please contact Dr. Barnes (barneslab@education.wisc.edu).
The Barnes Lab is actively seeking research participants for the following study:
The Impact of Meal Timing on Neurovascular Control in Adults
About the Research Study
The purpose of this study is to investigate how meal timing affects blood pressure and blood flow. Eligible participants must be healthy adults 50-65 years of age and be sedentary or recreationally active.
What Will Participation Involve?
Laboratory visits on the UW-Madison campus
5 laboratory visits lasting 1.5 – 4 hours each
Questionnaires
Blood draws
Blood pressure and 24-hour blood pressure monitoring (at home)
Blood flow testing
5-to-8-week at-home study intervention
Compensation will be provided for study participants. To learn more about this study, contact Anna Howery at barneslab@education.wisc.edu or 608-262-9572.